Italy promises billions of euros to Libya if it accepts the return of migrants
Comments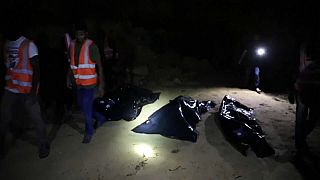 Italy and Libya have agreed to reactivate a friendship treaty signed a decade ago that allowed migrants to be returned to Libyan territory.
"We agreed to reactivate the 2008 Italian-Libyan friendship treaty," said Libya's foreign minister Mohamad Siala in a joint press conference in Tripoli with Italian counterpart Enzo Moavero Milanesi.
He hailed the agreement reached during his first visit to Tripoli as "significant and promising".
The original treaty was signed by former Libyan dictator Moammar Gadhafi and Italy's then prime minister Silvio Berlusconi, as they sought to turn a page on 40 years of stormy relations between the North African country and its former coloniser.
But the deal was suspended in February 2011, after the start of the uprising that saw Gadhafi forced from power and killed.
The original treaty envisaged unlocking 4.2 billion euros of Italian investment in Libya as compensation for colonisation by Rome.
In exchange, Libya would work to stop illegal migrants embarking from its shores -- and receive those sent back to it.
In Tripoli on Saturday the two ministers did not say if the text of the reactivated treaty had been amended.
The agreement means "all the conditions are in place to work hand in hand to support stabilisation ... (of) Libya's security and unity", Milanesi said.
Libya "shares with the European Union the responsibility and the duty to deal with migrants", he added.
"Co-operation between Libya, Italy and the EU is essential to resolve the immigration question and avoid human tragedies", said Milanesi.
Refugee, migrant and human rights groups say the war-torn state remains too dangerous to receive returnees. They're known to be held in detention centres where maltreatment is rife and even slave market where migrants are sold as workers have been documented in Libya.
The new anti-immigrant government in Rome has vowed to turn away all migrants who make it across the Mediterranean and into Italy.
In recent days the UN has urged Rome to change its policy and re-allow charity rescue ships to operate in its waters and dock at its ports. It states that, whilst the amount of migrant attempting the crossing has gone down, the number of drownings has gone up.
During Gadhafi's rule, thousands of migrants crossed Libya's nearly 5,000 kilometres of mosly desert terrain in their quest to reach the Mediterranean and Europe.
The flow of migrants through Libya surged after Gadhafi was toppled and killed in 2011, with smugglers exploiting the country's chaos to send tens of thousands of people each year across a 300-kilometre stretch of the Mediterranean to Italian territory.