EU not honouring commitments to help rescue migrants: Libyan official
Comments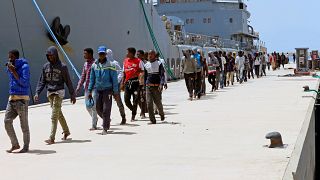 Copyright

REUTERS/Ismail Zitouny

-
The EU has not "fulfilled any commitments" to provide the Libyan Coast Guards with equipment to help stem the flow of migrants attempting to cross the Mediterranean, a spokesman for the Libyan Navy said Wednesday.
"Unfortunately, the EU has not yet fulfilled any commitments and all we hear is propaganda that the EU has provided assistance to Libya and its coast guards," Brigadier General Ayoub Kacem, a spokesman for the Libyan Navy, told Euronews.
"Nothing arrived from the EU. Even the boats that arrived from Italy are the result of a previous agreement between Italy and the former regime in 2008," he said, adding that out of the six boats loaned by Italy in 2010, two were then destroyed "by the international coalition during the liberation war."
The accusation comes after more than 200 migrants drowned in the Mediterranean in the past four days and on the heel of an EU migration summit in Brussels last Friday.
There, EU leaders agreed to strengthen control of the bloc's external borders, provide additional support to countries of origins — which would include Libya — and reduce secondary movements of migrants within the EU.
They also decided to open host screening centres in African countries although details have not yet been hashed out.
The EU and Libya have been collaborating since 2015 as part of Operation Sophia whose main aim is to identify, capture and dispose of vessels used by smugglers. Its mandate was then broadened in 2016 to train the Libyan Navy and Coast Guard.
The North African nation has also benefited from a €182 million EU Emergency Trust Fund for Africa designed to protect migrants in Libya and support local communities to cope with the challenge.
But Kacem called on the EU to provide Libya with equipment including ships, life jackets and communication devices, "instead of providing money."