France and Spain call for joint European response to migrant crisis
Comments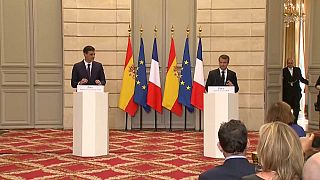 French President Emmanuel Macron says he's in favour of imposing financial sanctions on European Union countries that turn away migrants seeking asylum.
At a meeting with the Spanish Prime Minister Pedro Sanchez, he condemned countries that benefit from European unity while claiming national self-interest when it comes to taking in migrants.
The two leaders also backed setting up reception centres where migrants would be held while their asylum claims are considered.
''Once on land, we're in favour of closed centres that would be run in accordance with UNHCR principles, with European funding,'' Macron said.
Macron and Sanchez were speaking on the eve of a hastily-arranged summit in Brussels on Sunday to discuss the migration dispute that is dividing Europe.
Sanchez said: "We want to highlight what brings us together and be conscious of sending a message that only by being stronger, being united, will we be able to respond to several of these global challenges.''
German Chancellor Angela Merkel has warned it could be difficult to reach a deal in such a politically charged atmosphere.