Trump defends zero-tolerance by citing European 'mistakes'
Comments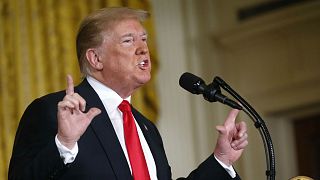 Donald Trump has made claims that immigration is out of control in Europe in order to justify his ultra-firm border controls, which has led to some 2,000 migrant children being separated from their parents and held in a converted warehouse.
In a tweet he said that migrants in Europe were responsible for a rise in crime in Germany and for violently changing the culture. The claims are inaccurate but he stated that the U.S. faced the same threats.
The Tweet read: "The people of Germany are turning against their leadership as migration is rocking the already tenuous Berlin coalition. Crime in Germany is way up. Big mistake made all over Europe in allowing millions of people in who have so strongly and violently changed their culture!" Trump, said in a tweet.
After the tweet, the president defended his stance during a press conference and repeated his claims.
"The United States will not be a migrant camp and will not be a refugee holding facility," he said.
"You look at what is happening in Europe, you look at what is happening in other places, we can not allow that to happen to the United States, not on my watch."
But Trump's position has received strong criticism from the United Nations.
Stéphane Dujarric, Spokesperson for the UN Secretary-General, said: "As a matter of principle, the Secretary-General believes that refugees and migrants should always be treated with respect and dignity, and in accordance with existing international law.
"Children must not be traumatised by being separated from their parents. Family unity must be preserved."
Under the zero tolerance policy adults face criminal prosecution but their children, who aren't charged, are taken to separate facilities.