UN: Kuwait blocks US resolution condemning attacks on Israel
Comments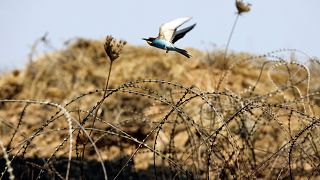 -
Copyright

REUTERS/ Amir Cohen
Kuwait has blocked a US-drafted United Nations Security Council statement that strongly condemned an attack by Gaza militants on Israel on Tuesday.
"The people of Gaza need protection from Hamas"

US Ambassador to the United Nations
Israel and Hamas traded rocket fire for hours after the militants shot at least 25 mortars at communities across the south of the country.
One shell landed near a nursery school shortly before it was due to open for the day, but most of Gaza's missiles were intercepted by Israel's rocket defence systems.
Israel said it responded by pounding some 65 militant targets in the Gaza Strip.
US Ambassador to the UN, Nikki Haley, said: "Hamas' actions prove the falsehood of the idea that the people of Gaza require international protection. The people of Gaza do not need protection from an external source. The people of Gaza need protection from Hamas."
Kuwait, a non-permanent council member that represents Arab countries, said it blocked the statement to allow for consideration of a draft resolution it has put forward on the protection of Gazan civilians.
Earlier this month, Kuwait blocked another US-proposed statement that criticised Palestinian Authority chairman Mahmoud Abbas' remarks about Jews and the Holocaust as "unacceptable."
The violence on the border marked the single biggest attack from the Palestinian side since the 2014 Israel-Gaza war.
Neither side has reported casualties.