Russian and Iranian foreign ministers discuss future of Iran nuclear deal
Comments
By
Euronews
with
Reuters, Associated Press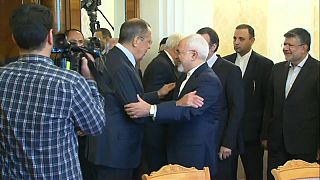 Iran's Foreign Minister is in Moscow for talks with his Russian counterpart on the US withdrawal from the Iran nuclear deal.
Russia is one of the six signatories to the agreement, known as the Joint Comprehensive Plan of Action, or JCPOA.
Iran agreed to curb its nuclear programme in return for the lifting of sanctions. But President Donald Trump said the agreement did not go far enough.
"Unfortunately once again we see that Washington is trying to revise key international agreements, this time to the Joint Comprehensive Plan of Action, the Jerusalem issue and a number of other agreements,'' Russia's Foreign Minister Sergei Lavrov said.
Iran's Foreign Minister Javad Zarif said that the US withdrawal had underminded the process.
Iran has said it might resume uranium enrichment at a higher rate if it finds the nuclear deal will not work anymore after the US withdrawal.