Polish MPs vote to cut their own pay after bonus scandal
Comments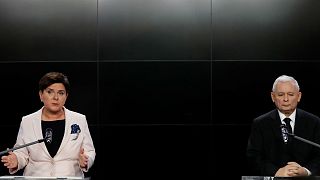 Polish MPs have voted to give themselves a 20% pay cut after a bonus scandal involving senior ministers.
The move, backed by members of the ruling Law and Justice (PiS) party, will see their salaries drop from the current monthly level of 10,000 zloty (€2,348).
The main opposition MPs abstained from Thursday's vote.
PiS chief Jaroslaw Kaczynski called for the pay cut last month after media claimed former prime minister Beata Szydlo gave herself and her cabinet colleagues up to €19,000 each on top of their basic pay last year.
The average monthly salary in Poland in April 2017 was €1,053.
On top of the salary decrease, Kaczynski also told ministers to give the bonuses to Catholic charity Caritas.
The scandal coincided with a drop in popularity for PiS. A survey in late March revealed support for the ruling conservatives fell to 28%, down 12% from the previous month, according to an opinion poll by Kantar Millward Brown for TVN television. It was the sharpest fall for PiS in the poll in at least a decade.
Want to read more?
Find out how Polish MPs' pay compares with the rest of Europe.