North Korea releases three U.S. citizens
Comments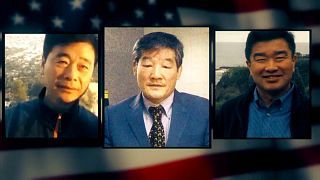 U.S. President Donald Trump said on Wednesday that three Americans detained by North Korea have been released and are on their way home with Secretary of State Mike Pompeo.
Trump tweeted that he was looking forward to meeting the released men and that they seemed to be in good health. He also said a time and place had been set for him to meet Kim Jong-un.
Mike Pompeo had been in Pyongyang to arrange the talks and the release of the detainees is being seen as a goodwill gesture ahead of an encounter with Trump.
Pompeo had been in the region and stopped off in North Korea on the way back from Japan.
The upcoming U.S.-North Korea summit has sparked a flurry of diplomacy, with Japan, South Korea and China holding high-level meetings over the last few days.
The three U.S. detainees being released are Korean-American missionary Kim Dong-chul; Kim Sang-duk, also known as Tony Kim, who spent a month teaching at the foreign-funded Pyongyang
University of Science and Technology (PUST) before he was arrested in 2017; and Kim Hak-song, who also taught at PUST.