Is the revolving door syndrome harming Europe's climate change fight?
Comments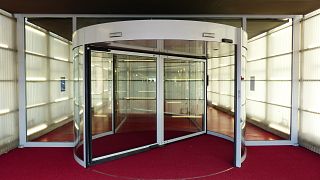 Campaigners have sounded the alarm over climate change policy in Europe after uncovering evidence about the closeness of the relationship between governments and major energy firms.
A new report claims to have found 88 cases of senior politicians or staff moving from the public sector to the energy industry or vice versa.
Greens-European Free Alliance, the political grouping in the European Parliament that commissioned the research, says it opens the door to fossil fuel-friendly firms having an influence on Europe's climate change policy.
It's part of a wider 'revolving doors' issue in Brussels that sees former European Commissioners and other high-ranking staff move into the private sector to work for firms lobbying to shape EU legislation.
The report calls for safeguards to be put in place to help prevent conflicts of interest arising because climate change is "the greatest and most urgent challenges of our time".
"It is difficult to measure the effect the revolving door has on climate policy," reads the report's executive summary.
"We highlight numerous cases of revolving doors between fossil fuel companies and the public sector but more research is needed before a definitive link with its effect on climate policy can be made.
"Nevertheless, the cases documented highlight the major potential for conflicts of interest, and when one takes into account what is at stake for large fossil fuel companies, and how much lobbying they conduct on climate policy more generally, weak revolving door policy provides another avenue of influence for private fossil fuel interests to exploit."
The report looks at the revolving door issue in 13 countries across Europe.
It highlighted scores of cases, among them Charles Hendry, the UK's former minister for climate change, who since leaving office has netted three jobs with oil firms.