Russian nuclear power, a 'floating Chernobyl', heading to the Arctic
Comments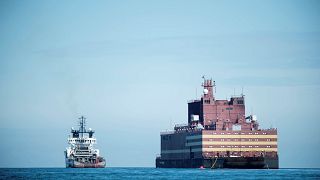 A Russian nuclear power plant ship began a long journey by tug from St. Petersburg on Saturday where it was built to an Arctic port town thousands of miles away.
But according to the environmental group Greenpeace, putting the Akademik Lomonosov to sea "is like balancing a nuclear power plant on a wooden palette and setting it adrift in some of the world's roughest waters."
The ship will be put into service next year in Pevek on the coast of Chukotka in Russia's far east, from where it will provide nuclear power to oil rigs and the town itself.
It was supposed to fuel up with uranium in St Petersburg but met with too much public opposition and will now fuel up in Murmansk in northwest Russia after sailing through the Baltic Sea.
It will then be towed five thousands kilometres through the Northern Sea Route to Pevek which has only recently opened up to mechant shipping.
Greenpeace says the incident-ridden history of Russian-built nuclear icebreakers and submarines should serve as a warning.
And it wants the ship, which will store nuclear waste onboard for twelve years, to be subject to independent monitoring by the international community.