Girl, 16, 'raped and burnt alive' in India
Comments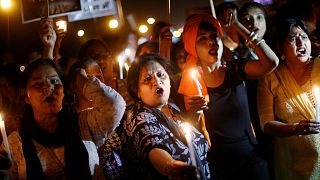 A teenager was burnt alive after being raped in India, according to police, the latest in a string of sexual assaults against women.
The girl, 16, was abducted from her home in Jharkhand, eastern India, while her parents were at a wedding.
She was raped in a forest, local police said.
Her family complained to village elders, who ordered the two alleged rapists to pay a 50,000-rupee (€625) fine and perform 100 sit-ups.
The duo were so angry with this they beat members of her family and then set the girl on fire, according to AFP news agency.
"They went to the residence (of the victim) and burned her alive with the help of accomplices," said Ashok Ram, head of the local police.
Fourteen people have now been arrested in connection with the incident but police say they are searching for another four individuals.
It comes after the rape of a nine-year-old girl sparked protests in southern India.
Several cases of sexual assault of children have come to light in recent weeks from different parts of the country, leading to an outpouring of anger.
The government introduced the death penalty for the rape of girls younger than 12 last month after a particularly gruesome case of rape and murder of a Muslim girl in Jammu and Kashmir state.
There were 40,000 rapes reported in India in 2016 but many cases are thought to go unreported because of the stigma attached to sexual assault.