Inter-Korean summit sparks cold noodle frenzy
Comments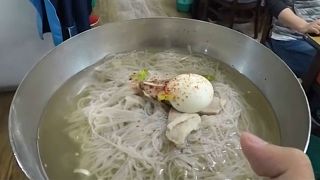 As North and South Korean leaders held an historic summit on Friday, a quip from Kim Jong-un sparked an unlikely craze.
The North Korean leader reportedly made a joke about Pyongyang Naengmyeon noodles, a recipe consisting of cold buckwheat noodles, and South Koreans went mad for the dish.
"I've been checking the news and people are talking about food a lot. So I brought some Pyongyang cold noodles for President Moon to enjoy. President Moon, please feel easy and have some delicious Pyongyang noodles that we brought," media reports cited Kim as saying.
The summit even drew to a close with the noodle dish made by a chef from a famous restaurant in the North Korean capital using a special noodle machine.
Queues formed outside restaurants selling Pyongyang Naengmyeon and people took to social media to post photographs of themselves eating the dish, with some users commenting they were doing so to "celebrate" the summit.
The term #PyongyangNaengmyeon was trending on Twitter and other social media.
The dish consists of noodles in a cold beef broth topped with beef, pickled horseradish, cucumber slices and half a boiled egg.