Preserved heart of Dublin's patron saint returned home
Comments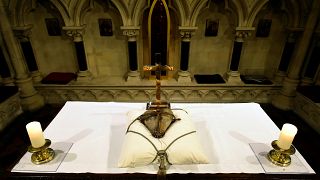 It was an unusual robbery:in 2012 a thief disregarded the valuable artefacts in Dublin's Christ Church Cathedral in favour of a preserved heart, eight centuries old. It belonged to the patron saint of the city, St Laurence O'Toole, and had been stored in a heart-shaped wooden box and enclosed in a metal cage ever since his death in northern France in 1180.
The heart was returned home to a packed congregation in celebratory mood. A choir led the singing of the Hymn of Saint Laurence. Dean Dermot Dunne professed himself "thrilled" that the heart was still intact.
A police spokesman declined to comment on reports that the heart was found in Dublin's Phoenix Park and did not say whether or not the thief had been identified.