Making history with a handshake.
Comments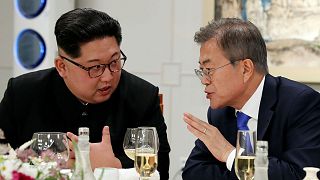 The leaders of North and South Korea have taken a giant leap forward, crossing each other's borders in a historic meeting that could mark a turning point in one of the world's most dangerous flashpoints.
Kim Jong Un and Moon Jae-in have signed a declaration stating there will be "no more war on the Korean Peninsula" and heralding "a new era of peace."
The countries also agreed to the common goal of the "complete denuclearization" of the Korean Peninsula.
"It is very significant that North Korea took a measure of freezing its nuclear capacity first. It will be a sound beginning for complete denuclearization on Korean peninsula. I clearly state that the South and North will cooperate closely for complete denuclearization," said Moon.
Kim echoed the comments on cooperation, saying the two sides would "make efforts to create good results by communicating closely, in order to make sure our agreement signed today before the entire world, will not end as just a beginning like previous agreements before today."
It was the first meeting between North and South Korea's leaders in a decade.
Kim also said that he looks forward to "making the most of this opportunity so that we have the chance to heal the wounds between the North and the South. Let's meet more often from now on."
He added: "Let's meet people's expectations to make a better world. I promise we will do well in the future."
The summit has also paved the way for a meeting between the North Korean leader and President Donald Trump.
The proposed meeting between Kim and Trump would be the first between a sitting US president and a North Korean leader.
It is not clear when it would take place, although American officials have said it could be from late May to mid-June. Singapore, Switzerland, Sweden and Mongolia have all been cited as possible venues.