Prehistoric humans may have practiced brain surgery on animals
Comments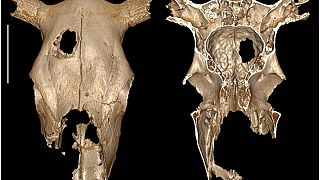 New analysis published Thursday of a 5,000-year-old cow skull with holes drilled into it suggest Neolithic people practiced brain surgery on animals before trying it on humans.
The analysis, by France-based scientists Fernando Ramirez Rozzi and Alain Froment, of a near complete cow skull excavated from the Neolithic site of Champ-Durand in Vendée, western France, was published in the academic journal Scientific Reports.
It found the hole and marks around it "may be related to human activity."
Earlier studies presumed the hole was caused by goring from another cow, but Rozzi and Froment discarded that hypothesis because "there is a complete lack of evidence to support a violent origin for this trauma."
Furthermore, marks consistent with forms of scraping – "similar to those observed in human skulls following cranial surgery by scraping" — are visible around the hole.
Evidence of cranial surgery in human history exists as early as the Mesolithic period — which began roughly 8,000 years BCE.
The scientists could not decisively determine why the surgery took place, but suggest that if the intent was to save the animal's life, then the bovine skull provides the earliest evidence of veterinary surgical practice.
However, they also say the surgery may have been carried out as a means for Neolithic humans to hone the techniques of cranial surgery. If that were the case, "the cow from Champ-Durand would provide the earliest evidence of surgical experimentation on an animal, indicating that this practice already existed in 4,000 BC."