Pro-EU candidate wins Montenegro's presidential election: Pollster CeMI
Comments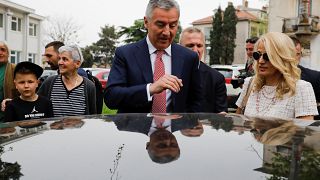 Copyright

REUTERS/Marko Djurica
Pro-European Union politician Milo Djukanovic has won Montenegro's presidential elections with 53.9% of the vote, according to pollster the Centre for Monitoring and Research CeMI.
The state election commission said turnout stood at 61.6% half an hour before polling stations closed at 7:30pm.
Djukanovic — a candidate for the ruling Democratic Party of Socialists (DPS)— said his win marked "another important victory for (Montenegro's) European future," on Sunday, adding that the results confirmed voters' "strong determination to continue on the European road".
The 56-year-old was favourite to win Sunday's elections.
Milos Nikolic, a DPS parliamentary deputy, told reporters at the party's headquarters that there would be no second round, according to Reuters.
"Djukanovic is the new president of Montenegro," he said.
A veteran politician and former prime minister, Djukanovic was a major player in Montenegro's politics from 1991 to 2016 and announced he would return to politics last month as a "responsibility for Montenegro's future".
The future president is likely to complete talks for EU membership while in power.
Mladen Bojanic — who has alleged ties to Russia — was second favourite and received 33.4% of the vote.
Here's how all seven candidates to the presidency performed according to a projection of results by CeMI:
Opposition candidates have accused Djukanovic of cronyism, nepotism, corruption, and ties with organised crime — which he's denied.
Bojanic told reporters he was "proud of his result" after seeing the preliminary results, adding that he would continue his work to "liberate Montenegro from Djukanovic's dictatorship."
This is the first election since the Balkan country joined the Western military alliance NATO last year.