New exhibition marks 250th anniversary since the death of Venetian artist Canaletto
Comments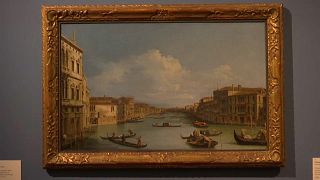 It is 250 years since the death of Giovanni Antonio Canal, better known as Canaletto. To mark the anniversary Rome is hosting a major exhibition of the Venice-born painter's works at the Palazzo Braschi.
The works have been gathered from museums around the world, including Moscow, Paris, Budapest, London, Wien, Boston, Kansas City, Cincinnati, Milan, Turin, Rome and Venice.
His descriptive paintings, with their hyper-realistic level of detail, became the most famous iconography of Venice in the 18th century.
He was known for slightly altering the perspective, the colours and daily life along the canals in order to please northern European tastes. The colours became warmer and the perspective wider, as if he was using a sort of fish eye.
Canaletto became very esteemed and sought after by rich British art lovers but according to the exhibition curator, Bożena Anna Kowalczyk, there were people who thought him a difficult artist to deal with:
"We are aware of the fact that there are the opinions of the English agents and clients who described him as a greedy and stingy artist who was changing the price every day and as somebody you had to be very careful with as he could not deliver the painting. Basically you had to take a lot of precautions to deal with him. But I think this is a sort of fictional image, also because the idea of such a self-confident artist works and is attractive. But in the end I believe that Canaletto was a humble, calm man who loved his work, loved Venice.
The exhibition runs until August 19.