Who is Gina Haspel, Trump's new CIA head? 'Spymaster' with a torture past
Comments
By Ken Dilanian and Dartunorro Clark and Robert Windrem with NBC News Politics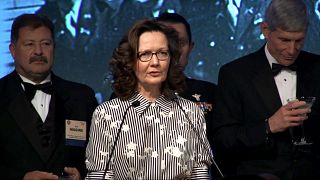 -
WASHINGTON — When President Donald Trump nominated Gina Haspel on Tuesday to be the next CIA director, he selected a seasoned intelligence officer with decades of experience, but also a key figure in the agency's troubled legacy of using torture as an interrogation tactic.
Haspel, 61, would be the first woman to lead the nation's top intelligence agency, a fact Trump highlighted in his tweet announcing her promotion, and the first CIA operator to run the agency since William Colby in 1973.
Haspel, who joined the CIA in 1985, has been described as a "seasoned spymaster" and currently serves as the agency's deputy director, where she oversees intelligence collection, analysis, covert action and counterintelligence, according to her official CIA biography. She was selected by Trump to be deputy director and appointed to that post last year by the agency's director, Mike Pompeo.
Pompeo was picked Tuesday to become secretary of state after Trump fired Rex Tillerson.
Haspel has had a storied career as an intelligence officer with several stints overseas and several top positions in Washington, including acting deputy director of the National Clandestine Service, a section in the CIA. She also served as a senior official in London and deputy director of the CIA's Russia Group.
Former colleagues told NBC News she had a conventional, hardline view of Russia as a dangerous adversary.
A focal point of her career is her involvement in the CIA's controversial interrogation program, where enhanced interrogation techniques, such as waterboarding and sleep deprivation, were used. Trump has publicly supported using harsh techniques. "I'd bring back a hell of a lot worse than waterboarding," he said at a GOPpresidential primary debate in 2016.
From 2003 to 2005, Haspel oversaw the top-secret CIA program where dozens of suspected terrorists were deprived of sleep, stuffed into coffins and had water forced down their throats,according to The New Yorker.
While overseas, she also ran a CIA "black site" — or secret prison — in Thailand where suspected terrorists Abu Zubaydah and Abd al-Rahim al-Nashiri were waterboarded in 2002, NBC News confirmed.
Haspel was also one of the CIA officials present at the interrogation of Zubaydah, an Al-Qaida terrorist suspect who was waterboarded 83 times in one month and harshly interrogated in other ways until it was discovered he had no useful information. A senior U.S. intelligence official told NBC News that the CIA denies Haspel was present during Zubaydah's interrogation.
She also assisted with an order to destroy CIA waterboarding videos. The agency has said that decision was made by Jose Rodriguez, who was the head of the CIA's clandestine service and Haspel's boss at the time.
In his 2012 book "Hard Measures," Rodriguez described the morning he instructed Haspel, his chief of staff, to grant permission to CIA officials over diplomatic cables to destroy the tapes.
"I thought about the decision. I was not depriving anyone of information about what was done or what was said, I was just getting rid of some ugly visuals that could put the lives of my people at risk. I took a deep breath of weary satisfaction and hit Send," he wrote.
In 2013, she was passed over as director of the National Clandestine Service, after serving as acting director for two months, when lawmakers — most notably Sen. Dianne Feinstein, D-Calif. — expressed concerns over her ties to the controversial interrogation program.
"It's no secret I've had concerns in the past with her connection to the CIA torture program and have spent time with her discussing this," Feinstein said in a statement Tuesday. "To the best of my knowledge she has been a good deputy director and I look forward to the opportunity to speak with her again."
A senior U.S. official told NBC News that morale inside the agency is good and many are relieved with news of Haspel's nomination. Haspel is generally seen as having been a "good leader" while serving as deputy director, the official said.
Haspel is generally seen as having been a "good leader" inside the agency while deputy and is helped by her long career and the fact that she would be the first woman director.
Former director of national intelligence James Clapper, who recently retired, once praised Haspelas a "seasoned veteran" who is "widely and deeply respected by the workforce."
"She has also been a strong proponent for integration, not only within CIA, but across the intelligence community," he told The Associated Press last year when she was selected as deputy director.
Michael Morell, who previously served as deputy director and acting director of the CIA under President Barack Obama, said last year that Haspel is "the most senior female operations officer to ever serve at the CIA" and described her as no-nonsense with "grit and toughness, and yet a big dose of humanity."
"Haspel does not shy away from the toughest jobs; in fact, she gravitates toward them. Some of the assignments that she took on have later come under political fire, but in each case she was following the lawful orders of the president," Morrell wrote in a blog post.
Dan Hoffman, a former CIA officer who worked with Haspel, told NBC News she "understands the place better than anybody ever could from the outside."
He added, "I know her, and I have worked with her. You won't find anybody at the agency with a higher level of intellectual honesty, integrity and commitment to the mission at CIA."
Hoffman, a former Moscow station chief, said Haspel "grasps...as well as anybody could" the threat posed by Russia.
Immediate reaction in the Senate to Haspel's nomination, which requires the chamber's confirmation, broke along party lines.
Sen. Ron Wyden, D-Ore., a member of the Senate Intelligence Committee, said Haspel's "background makes her unsuitable to serve as CIA director."
"Her nomination must include total transparency about this background, which I called for more than a year ago when she was appointed deputy director," he said. "If Ms. Haspel seeks to serve at the highest levels of U.S. intelligence, the government can no longer cover up disturbing facts from her past."
Sen. John McCain, R-Ariz., also raised concerns about her nomination and said she must answer questions about her role in the CIA's torture program, calling the agency's torture of detainees "one of the darkest chapters in American history."
Sen. Tammy Duckworth, D-Ill., said she would oppose Haspel's nomination because "her reprehensible actions should disqualify her from having the privilege of serving the American people in government ever again."
Sen. Richard Burr, R-N.C., chairman of the Intelligence Committee, was much more positive.
"I know Gina personally and she has the right skill set, experience, and judgment to lead one of our nation's most critical agencies," he said. "I'm proud of her work, and know that my committee will continue its positive relationship with the Central Intelligence Agency under her leadership. I look forward to supporting her nomination, ensuring its consideration without delay."
Ken Dilanian reported from Washington, and Robert Windrem and Dartunorro Clark from New York.