Greek protesters call on Turkey to release detained soldiers
Comments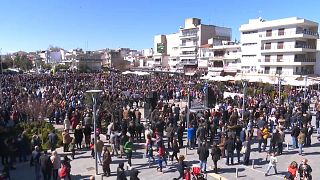 Thousands of protesters have taken to the streets calling for the release of two Greek soldiers detained in Turkey amid rising tensions between Athens and Ankara, .
Around 5.000 people rallied in the northern border town Orestiada on Sunday to demand the pair's release.
"This protest is for our two boys who are being held in Adrianoupolis. We expect answers and we expect them to be returned," said one protester.
Greece says the two soldiers were on a patrol when they inadvertently strayed across the border in bad weather nearly two weeks ago.
So far Turkey has refused to free the two men who are being held on grounds of spying and entering a prohibited military zone.
President of Orestiada Bicycle Club Christos Leventis said: "We want to cultivate a spirit of friendship and we want to show this in action. Our message is that our boys should return home as fast as possible."
Orestiada's cycling club held its own protest by riding to the border in a show of solidarity for the detainees.
Greece's defence minister, Panos Kammenos, who has ordered extra patrols along Greece's frontier with Turkey has described the two soldiers as "hostages".