Devil in the detail as White House struggles with Stormy Daniels
Comments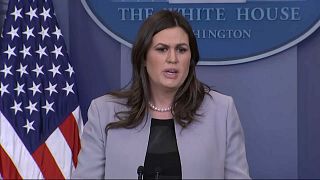 White House press secretary Sarah Huckabee Sanders has further stirred the Stormy Daniels controversy by saying President Trump won a case against her "in arbritration", implying legal contact where it has been denied.
Daniels alleges she was paid by Trump's lawyer to keep quiet about an affair with the then-candidate.
"I've had conversations with the President about this. And, as I outlined earlier, that this case had already been won in arbitration and that there was no knowledge of any payments from the president and he's denied all of the allegations," said Sanders.
Trump's longtime personal lawyer Michael Cohen claims he made the 130,000 dollar payment independently, out of his pocket., a claim rubbished by Daniels' lawyer Michael Avenatti.
"The idea that an attorney would go off on his own without his client's knowledge and engage in this type of negotiation and enter into this type of agreement quite honestly I think is ludicrous," he said.
On Tuesday Daniels filed a lawsuit against Donald Trump for attemppting to silence her "through the use of an improper and procedurally defective arbitration proceeding hidden from public view," via a document that did not bear his signature.