Classes resume in Parkland, Florida
Comments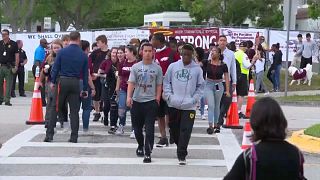 Students and teachers have returned for a half day of classes at the Margery Stoneman Douglas High School in Parkland, Florida.
It comes exactly two weeks after the deadly Valentine's Day shooting that took the lives of 17 people.
Dozens of councillors and principals were on hand to help students ease into their day.
They were also surrounded by a heavy police presence as they entered and left the school grounds.
"I don't want to say we didn't talk about it because we did," said student Kai Koerber. "But we were just trying to re-instill the sense of normalcy that we all had before this. At the end of the day, life has to go on and it doesn't mean that we forget the people that we knew before."
Officials praised the students for their resilience in the aftermath of the tragedy.
The school principal said there was about a 95% attendance for the first day back.