One of the world's oldest Erasmus students heads to Italy for semester
Comments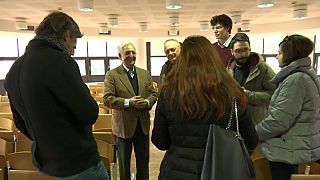 One of the world's oldest Erasmus students has chosen Italy for his study-abroad semester, thanks to his memories of seeing an opera starring Maria Callas there 40 years ago.
80 year old Miguel Castillo left his native Spain to head to the University of Verona, to study modern history.
"I come from a very humble family, my parents were farmers and I have always studied with the help of scholarships and that is how I got ahead." said Miguel Castillo.
"But my greatest satisfaction is having friends everywhere".
The grandfather of six returned to academia a few years ago after suffering a heart attack at the age of 75. 
After a career as a notary it prompted him to rethink how he wanted to spend the remainder of his days.
"On the road to recovery I told myself, 'I would like to do something beyond the classic napping'," he explained.  
Determined to make the most of his university years, Castillo applied for the EU's student exchange programme, which each year sends hundreds of thousands of students to other universities across Europe for anywhere between three months to a year at a time. 
 He hasn't signed up for the full student experience in Verona, though: he won't be staying in a college dorm. 
"My wife is coming with me and we will stay in a hotel for a while and then move into an apartment," he explained. 
"My wife says that she doesn't see us at a pyjama party." 
Each day attends classes with students who are a quarter of his age. Mr Castiilo says he doesn't feel out of place, rather students ask him information on notarial deeds and also on love stories.