America's most-loved evangelist Billy Graham dies
Comments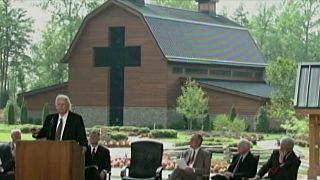 For more than 70 years Billy Graham, the hugely influential US evangelist who has died aged 99, preached his gospel around the world, giving sermons to an estimated 215 million people worldwide.
Friends with a succession of US presidents from Harry S Truman to George W. Bush, his was a conservative gospel mercifully free of fundamentalism, but from ordination in 1939 as a Southern Baptist until retirement in 2005 he sought to rebuild a Christianity he saw weakened by the modern world.
He launched several "crusades", nationwide or international tours, and early on expressed racist, anti-semitic and anti-Communist views. The former he apologised for in later life; for the latter, never.
He established the template for the media-savvy, charismatic tele-evangelists that would spring up in his footsteps, and who are so present on American television today, making fortunes for their churches...and sometimes themselves.