Syrian state TV shows pro-government fighters enter Kurdish-held Afrin region
Comments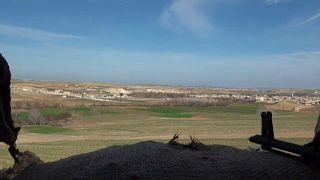 Syrian state television showed a convoy of pro-government fighters entering the Kurdish-held Afrin region on Tuesday to help fend off a Turkish assault.
The fighters wore camouflage fatigues and waved weapons and Syrian flags from their vehicles as they crossed through a checkpoint that bore the insignia of a Kurdish security force.
Earlier senior Syrian army officers called on the Kurdish YPG to join Syrian government forces "as fellow Arabs" to resist what Damascus is calling the Turkish invasion, despite having fought the Kurds for the best part of the last seven years.
While the town of over 30,000 people is still mostly quiet and normal life goes on mostly uninterrupted, many fear that the town will be surrounded by the Turks in the next few days, and then the agony of siege and street fighting will begin.
While the Kurds know they cannot possibly win against the Turkish army, they are determined to fight for as long as they can to buy time in the hope their American backers can reach a deal with their Turkish allies to take the heat off them.
Ankara has been enraged by America's willingness to arm and stand by the Kurds in the war against ISIL, and is wary of its continued support now the extremist group is on the verge of being wiped out.
America seems to have decided the Kurds are the only fighting allies worth counting on in the region, and they can keep an eye on Iranian expansion in the area and maintain pressure on the Assad regime. Washington has promised its NATO ally it will keep the Kurds under control and ensure they do not support groups like the PKK fighting Turkey, but Ankara has not been convinced.
Syrian government forces lining up alongside the Kurdish YPG to fight the Turks is yet another unlikely alliance in the ongoing shifting terrain within the failing Syrian state.
The Turks later issued a statement saying their artillery barrage on the Syrian government forces attempting to enter Afrin was successful, and forced the column to retreat.