Artificial city to give a glimpse of life on Mars
Comments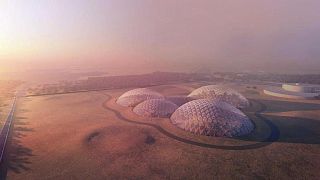 Copyright

Dubai Media Office
The United Arab Emirates have taken one giant leap toward Mars.
In its quest to reach the planet, the UAE is building a Mars Science City in the desert near Dubai. The artificial city will be a prototype that allows visitors to get a small taste of what life is like on Mars.
Award-winning Danish architect Bjarke Ingels, named in 2016 as one of TIME magazine's "100 Most Influential People in the World", said humans will, within a century, become the first species to inhabit another planet.
Ingels, who is designing Mars Science City, addressed the World Government Summit and explained why he believes the human race will one day be the first species to live on another planet.
Mars Science City will include everything needed to simulate what life could be like on the Red Planet. The €111 million project includes agricultural tests, food security studies, and laboratories where food, water and energy can be produced.
Although more work is needed to make it inhabitable for humans, Ingels believes that it is the best planet in our solar system for a colony.
Ingels said life on Mars may look like living underground, at least temporarily. 
Ahead of humans' arrival, robots will be able to use 3D printing to build underground bases before the first astronauts arrive. These bases would have to be built underground because of Mars' hostile atmosphere.
The architect referenced underground dwellings in Tunisia and Inuits' use of igloos in the Arctic. Ingels believes humans may need to live and sleep underground on Mars in order to reduce the amount of radiation they are exposed to.
The Mars Science City is aligned with the UAE's aim to lead the global race in taking people to Mars. The Mars 2117 Strategy, launched during last year's World Government Summit, seeks to build an Emirates city on on the planet within 99 years.
The project will also host exhibitions and provide education and support for research.
Is space exploration any use?
Leading scientists at the World Government Summit 2018 also shared their thoughts on why space exploration matters.
Experts said it is necessary for finding resources, and the prospect of tapping into Mars' water was examined throughout the sessions.
Richard Davis, assistant director for science and exploration in the Science Mission Directorate at Nasa said: "With the world facing water depletion, we are turning to Mars. 
"In the coming years, we expect to find water that we know is on Mars. Not only water, Mars will be the next goldmine, the next frontier of resource extraction, from the moon to asteroid mining."
He added: "Just one asteroid in the solar system has an estimated $5.4 trillion worth of platinum."