Venezuelans rush to borders as Colombia and Brazil tighten controls
Comments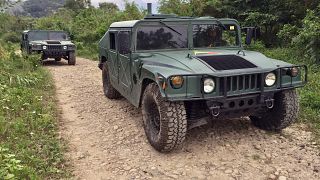 The neighbouring countries are sending extra troops to their borders where Venezuelans have arrived in record numbers over recent months.
Thousands of Venezuelans have rushed to border crossings with Colombia after Colombian president Juan Manuel Santos announced the tightening of controls.
Only those registered for a special border card or with a passport will be able to cross the Colombian border.
Many fear the new rules will make it more difficult for them to cross into Colombia to look for temporary work and buy essential goods.
The Colombian government expects many more Venezuelans to stay permanently as Venezuela's crisis worsens.
Colombia has officially taken in more than half a million Venezuelans in the last six months.
Brazil has also expressed concerns over the number of people crossing its border and said it will move refugees from regions near its border where social services are under strain.
Food shortages and an economic crisis has driven hundreds of thousands of Venezuelans to flee their homes.
Most salaries in Venezuela are now worth the equivalent of a few euros due to hyperinflation.
Nicolás Maduro will run for a second term in the country's upcoming election in April.