EU economy commissioner talks Greek bailout, Germany, and Portuguese austerity
Comments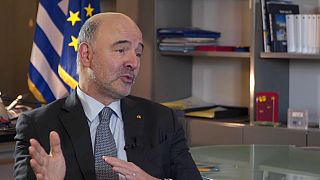 In the midst of constant change across the EU, the pressures on the economy are always a challenge. Euronews met up with The EU Economy Commissioner, Pierre Moscovici, in Athens as he met Prime minister Alexis Tsipiras to discuss the Greek bailout programme which is due to end in August.
"I am not discussing about clean, hard or soft exit. I am talking about the successful conclusion of the programme, that we go until the end of the programme, that all requirements are fulfilled and that after the programme you enter into a new era either you are in or you are out. And there won't be anything that looks like a false programme. I am not in favour of a precautionary programme".
Years of austerity in Greece caused huge upset in a programme driven by Angela Merkel's CDU party in Germany. But what would the effect be if the Social democrats take over the finance ministry?
"I think this is a signal there is a change in Germany. I think that the fact that the Social Democrats asked for the finance minister is a symbol. It's a symbol that of course you cannot expect Germany to renounce its stability culture, Germany is not going to raise deficit, Germany os always going to be a very serious partner. But there is also will and the will is to have stronger public action as far as the incoming policies are concerned and also to have deeper eurozone integration".
But the leader of the Portuguese government, Antonio Costa, has taken back some of the austerity measures in pension cuts, and on wages. So without tight control might others feel that they can follow suit?
"This is a serious government. It's a pro-European government. They are fully in line with their commitments. That does not forbid democracy. Having commitments to be respected does not forbid to have centre-right policies or more centre-left policies, to have more pro-business measures or pro-social measures".