French store sparks outrage for tearing up, discarding unsold clothes
Comments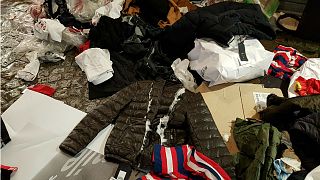 A French clothing store has come under fire this week after photos were shared on social media of unsold garments being cut up and abandoned instead of donated to people in need.
Nathalie Beauval saw the men's clothing hanging up outside the store Celio in the city of Rouen on Saturday, and posted photos to her Facebook page.
The post has now been shared more than 23,000 times, with many slamming Celio for the "shameful" decision, citing issues of homelessness and falling temperatures.
Beauval is now calling for a 2016 law forbidding food waste by French supermarkets to be extended to clothing.
"Many people are horrified," she told Euronews of the reaction to her photos
"We have a 2016 law against stores throwing away food, we could go forward to ask for a law on this," she said.
Beauval argued that unsold clothes should be donated to people on the streets rather than thrown away.
She added that it was not the first time she had seen stores destroy and discard unsold clothes, and that many people on social media had also expressed seeing similar scenes.
However, Celio defended the action, telling critics on Twitter that the clothes were already unwearable because of holes, tears and stains, and it was company policy to destroy them.
It said it worked with a national charitable association and regularly donated discontinued stock.