Donald Tusk travels to Germany while MEPs urge Turkey to drop its state of emergency
Comments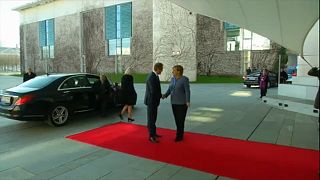 In The Brief from Brussels today:
EU Council chief Donald Tusk was all smiles as he greeted German Chancellor Angela Merkel in Berlin. Merkel has managed to put together a governing coalition with Germany's Social Democrats several months after the country's election. But it comes at a price for her – several key ministries have gone to her coalition partners.
In Strasbourg, MEPs meeting in a plenary session of the European Parliament have urged Turkey to drop its state of emergency. They say concerns following the attempted coup in 2016 are being used as a pretext to crack down on dissent.