Apathetic young Cypriots avoid Sunday's presidential election
Comments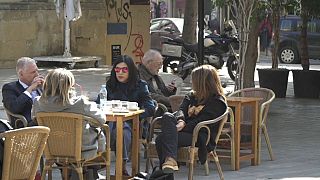 In Nicosia, there's a feeling of apathy amongst young Cypriots as they face a second round of presidential elections this Sunday.
In 2013, the last time there was an election, Cyprus was on the verge of financial collapse but now it is no longer in recession.
A massive EU bailout saved it but government cuts have hit hard.
"I didn't vote and I will not vote. I am not interested in politics," said one young man.
"I am not interested very much in politics and my family also. I didn't vote and I will see if in the future I will go to vote but I don't think so," another added.
But others want to make their voices heard.
"I voted last Sunday and I will vote this Sunday, too. I believe that we, the young people, should vote because abstaining is not a way to protest," a young man said.
"It's the first time I am voting in elections. I want to vote. It's my choice because I want to take part as a citizen in these elections," a fourth young man said.
Cyprus has been divided along ethnic lines since 1974 when Turkish troops invaded from the north and occupied a third of the island.
But for those who do vote, it's the economy that is likely to be uppermost in their minds.
Our correspondent in Nicosia, Marios Ioannou, says that three quarters of young voters between 18 and 19 haven't registered to vote, turning their backs on the presidential elections.