One climber saved, another stranded on Pakistan's "killer mountain"
Comments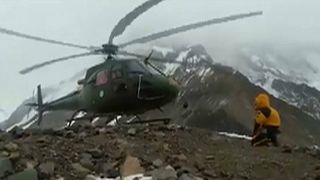 A daring nght ascent was needed in the race against time to save the lives of two climbers on Mount Nanga Parbat, or the "Killer Mountain", in Pakistan.
French climber Elisabeth Revol was airlifted out after being brought down by Poland's winter climbing team, which had been attempting the first winter accent of nearby K2, before diverting to go to her and Tomasz Mackiewicz's help.
She had been spotted by a Pakistani army helicopter at around 6,700 metres, and helicopters were then used to drop a four-man Polish team into position at 4,900 metres for the rescue climb.
Mackiewicz remains stranded, 7000m high, after the weather closed in and prevented the Poles from going to his assistance.
Nanga Parbat is Pakistan's second highest mountain, and last claimed the lives of Spanish and Argentinian climbers in June in an avalanche.
The first successful winter ascent was only in 2016.