Sir Elton John to quit live touring
Comments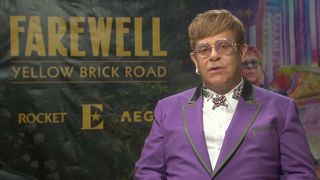 Sir Elton John intends to go out with a bang with live touring, which the superstar says he will abandon after one last World tour, beginning in September this year.
It is going to be quite a last hoorah, with more than 300 dates scheduled on five continents over three years.
"Having had children and seeing how much joy they brought to us, I thought, 'You know what? I want to spend more time with them. I have to spend more time with them. I'm their father; David is their father. They give us so much joy. I don't want to miss too much. And it was a pretty easy decision, to be honest with you," he says.
The great showman fully intends to say farewell to his public in the grand manner.
"I want the audience to be entertained throughout the whole 2 hours 10 minutes. There's going to be things I'm doing onstage that I've never done before. I just want them to have a capsule of my life, my success - 50 years - capsulated into 2 hours 15 minutes, 10 minutes, and go away thinking wow, he gave us the best when he left."
This will not be the end, as Sir Elton intends to continue composing and recording.