Harry Potter fans can now spend a night at Hogwarts
Comments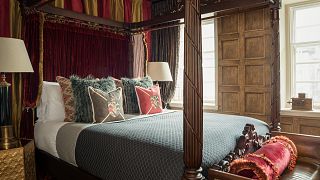 Muggles are welcome to stay in this Harry Potter-themed apartment, which has just opened in the Scottish Capital.
Situated in the historic area of Edinburgh - the birthplace of J.K Rowling's Harry Potter books - the magical apartment is the brainchild of Hogwarts superfan Yue Gao.
Canongate Luxury Apartment, which overlooks Edinburgh's Royal Mile, has a master bedroom with a Gryffindor dormitory theme.
The flat, which is available to rent all year round, comes with a four-poster bed and has a ceiling which makes a beautiful illusion of floating candles.
A second, smaller double room has been decked out to look like a carriage from the Hogwarts Express.
And the living area pays homage to the Gryffindor common room.
The apartment is filled it with collectibles from all over the world and includes a desk and a mirror which once belonged to J.K Rowling – herself a Scotland resident.
Header Picture: ZAC and ZAC photography