Can Michigan State president survive gymnastics scandal?
Comments
By Tracy Connor with NBC News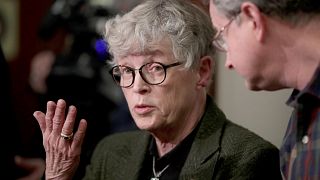 Copyright

Scott Olson Getty Images

-
Larissa Boyce stood in a Michigan courtroom, the 89th accuser to tell her story of having been sexually assaulted by gymnastics doctor Larry Nassar.
All the accounts are chillingly similar, but Boyce's stands out — because she says she tried to get someone to stop Nassar two decades ago.
"I told somebody," she said during her testimony Friday. "I told Michigan State University back in 1997."
Although Nassar is best known as the former team physician for USA Gymnastics — a role in which he allegedly molested Olympic gold medalists like Aly Raisman and Jordyn Wieber — his busy sports medicine practice was at Michigan State, or MSU, and most of his accusers were treated there.
As NBC News reported last year, there are troubling questions about whether MSU officials ignored signs that Nassar was abusing girls and women under the guise of medical treatment and whether its response to the scandal was vigorous enough.
In recent weeks, as a series of Olympic gymnasts announced that they were victims and brought more attention to the case, the drumbeat to hold MSU accountable and for university President Lou Anna Simon to step down has grown ever louder.
On Friday, MSU men's basketball coach Tom Izzo raised hackles when he expressed sympathy for the abuse survivors but then voiced support for Simon and said he hoped the "right person was convicted."
Raisman's mother took to Twitter to bludgeon Izzo, questioning whether he was "just a moron or a total liar." On Sunday, he said he had chosen "the wrong words."
The student newspaper called for Simon's resignation last week in a front-page editorial, writing: "Don't think for a second MSU wasn't involved. A monster like Nassar doesn't happen alone."
The local newspapers and some lawmakers, including the speaker of the state House of Representatives, also want her out. Increasingly, comparisons are being drawn to the Jerry Sandusky abuse scandal at Penn State University, which resulted in jail terms for top school officials.
The university's response, Boyce said, has been "tone-deaf."
No MSU officials were in the courtroom when Nassar's sentencing hearing began Tuesday, leading one victim to declare Simon "a coward." The university said Simon didn't want to be a distraction as victims delivered impact statements, but she showed up Wednesday.
On Friday, the board of trustees at the embattled Big Ten school asked state Attorney General Bill Schuette to review its handling of the matter. But then the board publicly backed Simon, who has been president since 2004 and makes $860,000 a year.
"We continue to believe President Simon is the right leader for the university and she has our support," the trustees said in a a unanimous statement.
By the next day, there was a crack in the united front. Trustee Mitch Lyons, an MSU grad and former National Football League player, put out a statement saying Simon should resign.
"I don't feel that President Simon can survive the public outcry that has been generated by this tragedy and even less so after hearing the testimony of these brave survivors of Larry Nassar's abuse," Lyons said.
Lyons said that he had seen no evidence to suggest that "she knew anything of the monster that Larry Nassar is until 2016" but that he didn't believe the victims and the university could heal while she was still in charge.
"I believe that without question, the public has lost confidence in Dr. Simon to effectively lead this university, and I believe that this loss of confidence is irreparable," Lyons said.
It's not clear whether Lyons has any sway over his fellow trustees. He came under fire in June for disclosing the name of a whistle-blower in a football sex-assault scandal, which he said was an accident. And he was arrested earlier this month on a misdemeanor battery charge, which he called a misunderstanding.
And on Saturday night, the board was quick to say that the rest of the trustees "continue to support President Simon."
MSU's position from the start has been that the school didn't know Nassar was an abuser until after an investigation by The Indianapolis Star in fall 2016 that included allegations from two victims.
As the number of accusers rose by the day — eventually topping 140 — the university hired former federal prosecutor Patrick Fitzgerald to help defend it against a mountain of lawsuits.
Last month, responding to to a request for information from Schuette, Fitzgerald said in a letter "that no MSU official believed that Nassar committed sexual abuse" before the scandal broke in 2016.
But three women say that whether or not officials believed Nassar was an abuser, employees were notified of his conduct years before it came public and failed to act.
Boyce said she went to gymnastics coach Kathie Klages in 1997 while she was part of a teen gymnastics program at the school; runner Christine Achenbach said she told a coach in in 1999; softball player Tiffany Lopez said she spoke to two trainers in 1998 and 2000. All three say their complaints went nowhere.
"No one ever believed me," Lopez told NBC News last year.
In 2014, MSU graduate Amanda Thomashow reported Nassar to the school, triggering an investigation. The university consulted four experts about his so-called technique — all with ties to Nassar — before telling Thomashow that it wasn't taking action against the doctor. MSU police forwarded their report to prosecutors, who declined to bring charges.
"No one ever believed me."
Even though the school found some of Nassar's behavior problematic, that wasn't reflected in a performance review obtained by NBC News, and a dean welcomed him back with this email message: "I am happy to have you back in full practice."
"Michigan State University, the school I loved and trusted, had the audacity to tell me I didn't understand the difference between sexual assault and a medical procedure," Thomashow said at the sentencing hearing.
Nassar, 54, was fired as USA Gymnastics' team doctor in 2015 following a complaint by national team gymnast Maggie Nichols. One of his MSU colleagues, Dr. Brooke Lemmen, knew of the probe and failed to alert anyone even as Nassar continued to see patients, the university said in a letter to her. Her attorney said the university was trying to make her a scapegoat.
Nassar was suspended fter the bombshell in September 2016 that two gymnasts had accused Nassar of sexual abuse. As NBC News first reported, Klages, the gymnastics coach, soon asked team members to sign a card for him.
"She said, 'You don't have to sign this if you don't want to, but it's for Larry, and it would be appreciated if we could let him know that we're thinking about him,'" said Lindsey Lemke, 21, who says Nassar molested her hundreds of times when she was a young gymnast before she enrolled at MSU.
Even after Nassar was caught with child pornography, Klages continued to defend him, telling Lemke's mother that her daughter had "misinterpreted his procedures." Klages has since left MSU and has said in a previous statement that she had no idea that Nassar was an abuser.
Nassar's sentencing hearing will continue Monday with more testimony from accusers, and the pressure on Simon to resign as MSU president is likely to grow. As she defends her position, her critics are poring over some of her past comments.
In April, speaking of Nassar to the board of trustees, she said: "I have been told it is virtually impossible to stop a determined sexual predator and pedophile, that they will go to incomprehensible lengths to keep what they do in the shadows."
Five years earlier, as chairwoman of the NCAA's executive committee, Simon advocated for a multi-tier system of violations that could differentiate among major ethics infractions like those at Penn State during the Sandusky era and less serious infractions.
After all, Simon said, "nobody's perfect."