House GOP confident it can avert shutdown; Senate isn't
Comments
By Leigh Ann Caldwell and Marianna Sotomayor and Frank Thorp V with NBC News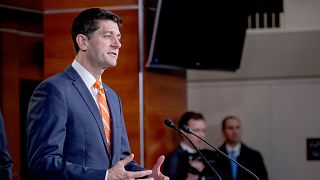 Copyright

Tasos Katopodis Getty Images

-
WASHINGTON — House Republicans are confident they have the votes to pass a short-term government funding bill before Friday's deadline to keep the government open, leadership aides tell NBC News. But the measure's prospects in the Senate remain much dimmer, keeping the chance of a government shutdown alive.
The uncertainty over the fate of a temporary spending measure is further complicated by a lack of an agreement on the Deferred Action for Childhood Arrivals program, or DACA, which Democrats want before they will agree to support extending the government's funding.
President Donald Trump said in an interview with Reuters on Wednesday that a government shutdown "could happen" and that Democrats would be to blame.
House leaders spent much of Wednesday surveying members to see if they could count on the support of the 218 Republicans needed to pass a four-week spending bill. We are "happy with how the conversations went today," a Republican aide told NBC News.
The measure would extend the low-income children's health insurance program for six years while delaying some key Obamacare taxes for two years.
But with just two days left before the last short-term spending bill lapses, problems continue in the Senate. Sen. Lindsey Graham, R-S.C., who was rebuked by the president for his compromise immigration plan, announced that he would not support another stop-gap spending measure. Congress has already passed three short-term extensions since the beginning of the fiscal year in October.
"There's four of 'em," Graham told reporters. "Eventually you got to say no. I don't want to shut the government down, but you know, it's killing the military and it's the worst way in the world to run the military and the government in general and we just got to let folks in this body know that enough is enough."
With Graham against the measure and Sen. John McCain, R-Ariz., absent for cancer treatment, Senate Republicans need the support of 11 Democrats to pass the measure.
Sen. Dick Durbin of Illinois, the No. 2 Democrat in the Senate, said that members of his party, even some from red states, are willing to "make a stand" to settle the fate of those undocumented immigrants covered by DACA.
Durbin said Democrats would not be to blame for a shutdown.
"It would look like the failure of Republicans to come up with 60 votes," Durbin told reporters.
In a foul-mouthed meeting last week that derailed negotiations, the president rejected a proposal by Graham and Durbin and a bipartisan group of four other senators that would provide a path to citizenship for many of those covered by DACA alongside border security that meets the White House's previous request.
Despite four more Republicans announcing their support for the Graham-Durbin proposal Wednesday — Sens. Lisa Murkowski, R-Alaska, Susan Collins, R-Maine, Lamar Alexander, R-Tenn., and Mike Rounds, S.D. — Senate Majority Leader Mitch McConnell said he won't bring the measure up for a vote until he knows what the president wants in an DACA bill.
"As soon as we figure out what he is for then I would be convinced that we were not just spinning our wheels going to this issue on the floor but actually dealing with a bill that has a chance to become law and therefor solve the problem," McConnell said.
Meanwhile, negotiations on DACA are stalled. The White House and Congress attempted to move forward on DACA talks with top aides spent the day on Capitol Hill as Democrats insist the deadline to come up with a solution is Friday.
A bipartisan group of lawmakers met with White House Chief of Staff John Kelly, Legislative Director Marc Short and Department of Homeland Security Secretary Kirstjen Nielson Wednesday but the only progress that was made was that they agreed to meet again on Thursday.
After the profanity laced meeting with Trump last week, Republican Majority Leader Kevin McCarthy said the dialogue in the meeting was "very professional." Sen. Durbin said there was "good will but no progress."
Durbin told reporters that during a phone call last Thursday, before the infamous meeting, Trump told him he didn't "want to slow walk" the deal.
On Fox News Wednesday night, Kelly said he spoke to Trump after the president's phone call with Durbin. "I don't want the president to hear one side of the story," Kelly said, calling the bipartisan bill "one side of the spectrum."
Like Trump changing his mind over the course of two hours last week, Durbin said the White House has also moved the goal post on border security to go beyond securing the border. He said they want to include a crackdown of asylum seekers undocumented immigrants in the U.S. as part of border security.
"They have their long list of must have items that go far beyond traditional border security," Durbin said.
Meanwhile, in a meeting with the Congressional Hispanic Caucus, Kelly said that Trump's campaign promise to build a wall was not "informed," according to Rep. Luis Gutierrez, D-Ill.,
"Kelly went on to say that many campaigns are not fully informed about every policy and that campaigning and governing are two different things and that governing is harder," Gutierrez wrote in a statement. "Kelly took credit for educating the President on the wall and that a concrete barrier from sea to shining sea was no longer the conception of border security barriers supported today by the White House."