Chorus of condemnation grows over Trump 'shithole' slurs
Comments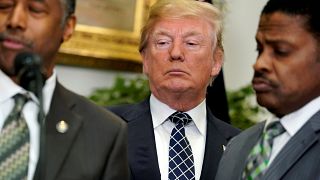 After reportedly calling some nations 'shitholes', it was while honouring the memory of black civil rights leader Martin Luther King that Donald Trump faced and ignored a question being asked the world over.
'Mr. President, are you a racist?' asked American Urban Radio Networks White House Correspondent April Ryan on Friday.
She spoke up at an event at the White House, as Trump stood beside Isaac Newton Farris, King's nephew, while a group of African-American supporters and members of his administration were on hand in the Roosevelt Room.
Trump didn't answer this or any other question shouted by reporters about his remarks.
Venezuela wasn't among the countries President Trump reportedly referred to but his counterpart there took the alleged comments personally.
No friend of Washington, leftist President Nicolas Maduro denounced what he called "supremacist, racist, fascist expressions."
Using them, he said, implies that Latin American people are "worth nothing".
Maduro added: "First come the words of contempt, then come the threats, and then comes the action."
Trump denies using the word "shithole" including towards Haiti, which is marking the eighth anniversary of a devastating earthquake.
In a statement, the Haitian government expressed its shock and outrage. It also asked for an apology as did the African Union.
African nations and El Salvador -also said to have been targeted in Trump's comments on immigration - have had plenty to say.
"We have sent a formal letter of protest to the United States government, also highlighting the value of Salvadorans and recalling that there were compatriots who worked on the reconstruction of the Pentagon after the unfortunate terrorist attacks of 2001,"  El Salvador's President Salvador Sanchez Ceren said on Friday.
While there has been a chorus of condemnation worldwide, Trump's grassroots supporters at home will surely applaud this latest incendiary episode.
*with Reuters *