We all hate dressing rooms. Here's how to outsmart them.
Comments
By Wendy Rose Gould with NBC News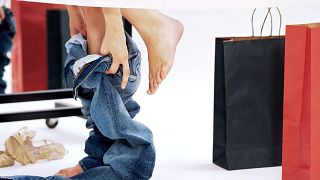 -
Copyright

Image Source Getty Images
With an armful of heavy clothes draped across your arm and ambition at its peak, you begin to snake your way through overstuffed shopping aisles toward the nearest dressing room. Upon arrival, the attendant mechanically thumbs through your selections, hands you a number and guides you to a small, mirror-lined booth complete with fluorescent lighting and questionable curtains.
Then the panic sets in. The yellow glow highlighting every imperfection. The stuffy temperature. Your own reflection staring back at you from three different angles. The ambition you felt two minutes ago? It's now overshadowed by that certain dressing room disquietude as you face yourself — literally — and begin to undress.
Why Dressing Rooms Make Us Feel Awful
"I am shocked at the critical language that I hear in the dressing room," says Dr. Susan Albers, a clinical psychologist who specializes in body positivity. "I often overhear a demeaning soliloquy of oneself and body, [and sometimes] you will see two women trying on clothes in tandem, then emerge and sometimes begin critiquing themselves to each other."
Dressing rooms are hard because we come face-to-face with our inner critic, she explained. In that tiny room, it's just you and the mirror.
Dressing rooms are hard because we come face-to-face with our inner critic.
Jené Luciani, a TV style expert and host, adds, "It's also the unknown. Maybe you haven't shopped in a while so you're not sure of your size and you're just hoping those fours will fit, or maybe you're trying that cut-out romper you saw on Kendall Jenner last week and are unsure of the style. Either way, you're already going in on-edge, and then you've got the lights and the mirrors — it's a lot."
As such, feelings of self-disgust — and even tears — are not uncommon within dressing room walls, and they can linger throughout the days and weeks that follow. Despite the cracker-box sized rooms, terrible lighting and uncertainty about our own bodies, it's possible to transform the dressing room into a positive, or at a least neutral, space. Here's how.
Self love
Strategies for a Better Dressing Room Experience
Be in the right state of mind: If you aren't feeling in the best mood and your inner critic is already tapping on your shoulder, skip the trip to the department store. Dr. Albers recommends waiting for a day when you're in a shopping mood and mentally equipped to ward off your own nit-picking.

Adjust your vocabulary: "Make a hard and fast rule that you aren't going to use demeaning dressing room language like fat, horrible and ugly," says Albers. "Sometimes, you can't help it and the words spring to mind. If this is the case, give yourself a gentle mental nudge and say, 'There is that inner critic again.'"

Wear proper undergarments: "Any designer will tell you that the right foundations are the key to making any look work," notes Luciani. "For example, if you know you're going to try on form-fitting gowns then bring your Spanx with you, and don't wear an ill-fitting sports bra when you're trying on blouses for work."

Ignore the size on the tag: "Brands all run differently and you can be different sizes in everything," says Luciani. "Ask a sales person for advice on how the sizes run and then pick the size you think you are, as well as one size up and one size down. Try them on without looking at the tag and go with the one that you can honestly say looks the best."
Face the door while dressing: Do you stand inches away from your mirror while getting dressed at home? Why start under fluorescent lights? "As you try on clothes, turn toward the door rather than the mirror. This way you are not staring at yourself and every curve in the mirror as you try on the garment," says Albers. "When you are done and are ready to do a big reveal, do it with a happy 'ta-dah!'"

Step away from the dressing room: It's nearly impossible to get an accurate view of yourself without leaving the dressing room. Step outside and use hallway mirrors or mirrors situated throughout the store. Oh, and be wary of mirrors that aren't flush against the wall. Tilting them is a common dressing room trick, that distorts the image you see and makes you look thinner. Which may be nice in the moment, but can lead to more frustration when you get the item home and try it on again.

Enlist a second pair of eyes: Bring a shopping partner along, or snap a photo and text it to a friend, advises Luciani. You can also ask other women in the dressing room, or the attendant, for their opinion. When you do ask, give two options and say, "Which one is more flattering?" versus "Doesn't this dress make me look terrible?"

Take a picture for yourself: Sometimes looking at yourself in an image versus in a mirror can help give you a better perspective of the way a garment looks. Snap a picture in the hallway mirror of each item you try on, then shuffle through them to see which you like the best.

Move around: Clothes aren't meant to be stationary. Sit down, dance, lift up your arms and walk around for a bit. "Living," however briefly, in the garment can help you realize that this experience is about the clothing. If something doesn't fit or feel comfortable, blame the clothes — not your body.

Be a good role model: Don't perpetuate negative self-talk via participation or silence. Instead, actively become a positive role model in dressing rooms. Compliment yourself aloud, and compliment others, too. "When I am in a dressing room and I see a woman wearing something that genuinely brings out her glow, I tell her," says Albers. "Often, we think it, but don't say it." Bonus: it'll make both of you feel good.
Want more tips like these? NBC News BETTER is obsessed with finding easier, healthier and smarter ways to live. Sign up for our newsletter and follow us on Facebook, Twitterand Instagram.