Meghan and Harry's royal visit divides 'London's Harlem'
Comments
By Saphora Smith with NBC News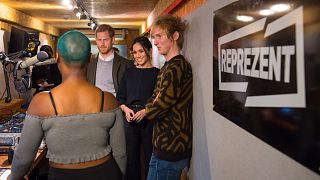 -
Copyright

Dominic Lipinski WPA Pool via Getty Images
LONDON — When Nelson Mandela accompanied Prince Charles to Brixton in 1996, the Nobel Peace Prize winner described it as "the fulfillment of a dream."
Brixton has been dubbed "London's Harlem" and became synonymous with the city's Afro-Caribbean community following mass migration to Britain at the end of the Second World War. Race riots during the 1980s brought it infamy.
On Tuesday, Prince Harry and his American wife-to-be Meghan Markle visited the south London neighborhood for their second official event as an engaged couple.
But the area is now very different from the Brixton toured by Mandela, which the prisoner-turned-South African president lauded as the "heartland of the anti-apartheid struggle."
Some locals said the royal visit would do little to benefit the local community, which has faced large-scale gentrification and soaring rent prices.
Others questioned whether Kensington Palace had chosen Brixton because of Markle's biracial identity, suggesting the trip boiled down to little more than a public relations move.
"It's a stunt for the royal family," said Mike Eweje, who works at Budget Carpets, a store in one of Brixton's famous railway arches.
"Did Will come here with his missus?" he asked, referring to Harry's older brother, Prince William, and his wife, the Duchess of Cambridge. "I don't think so. It's like, 'Look at us, we've got a black person with us now.'"
Eweje added, "People don't care about the royal wedding because they don't care about people around here."
Mo Jason, 18, who was skateboarding outside the Brixton library, said it did seem as if the royals had an agenda.
"They're trying to be cultural by coming down here," he said.
Harry and Markle are by no means the first royals to visit Brixton. In a rare joint appearance, Queen Elizabeth II and her daughter-in-law, the Duchess of Cornwall, visited a local riding school in 2013. Prince Charles and his wife visited in 2010 and then again in February.
Markle, who'll marry the prince who is fifth-in-line to Britain's throne on May 19, joined Harry on a tour of Reprezent, an underground music radio station.
Founded in 2008, Reprezent started as a month-long broadcast focusing on raising awareness around gun and knife crime. It has since evolved into a full-blown FM station with an emphasis on new music and emerging talents.
"Over half of our playlist is unsigned," Reprezent founder Shane Carey said. "And we have over 2,000 new artists profiled a year on the station."
The radio station was launched as a platform for young people in south London to socialize and learn new skills in an environment where they could be confident and creative, the 45-year-old Carey said.
Related: Royal engagement exposes Britain's 'quiet & unique' racism
In a statement, Kensington Palace said the couple would learn more about the station's "model of using music, radio and media for social impact."
Last week, the young people working at Reprezent expressed excitement about Markle and Harry's looming visit.
"I absolutely love the royals, it's ridiculous," said Henrie Kwushue, 22, who presents a morning rap show at the station. "The fact they're coming here, they're interested in diversity, they're interested in what we have to say."
Kwushue joked that she thought Harry would understand south London slang.
Kyle Craig, 23, who has been working at the radio station since he was 14, said he thought Harry was the perfect choice of royal to drop by.
"He'll connect with young people, and Meghan seems like she's a down-to-earth person," Craig said.
Pictured joking with the likes of former President Barack Obama and singer Rihanna, Harry has gained popularity among a younger generation of Britons as the more relaxed face of the British royal family.
When he guest edited BBC Radio 4's flagship morning news program last month, he kicked it off with grime — a genre of music that originated in London and has taken the U.K. music scene by storm.
Grime star Stormzy — who made his radio interview debut on Reprezent in 2014 — has even offered to perform at Harry and Markle's wedding.
But outside the trendy community project known as Pop Brixton, where Reprezent is based, locals were more conflicted.
Some questioned the motive for choosing Brixton for the couple's second official outing.
"She's hardly Serena Williams," said Anita Thorpe, who owns a lifestyle store called Diverse. "She's not going to make any dents or any ripples. It's not going to make a massive difference."
Thorpe said she thought Brixton had been chosen because the Los Angeles-born Markle was partly from a minority background.
"They think it's a good fit coming to Brixton," she said. "It's a bit of a cliché, but I guess also something quite positive."
Several local Afro-Caribbean women said the biracial Markle, who starred in TV series "Suits," would be a good addition to the royal family.
"She's the first diverse royal, reflecting for the first time the demographics of England," said Dennise Hilliman, while getting her hair done in a local salon. "All the royals are very white, but when you look at England, and especially, London you have so many ethnicities."
CD Leroy, who was selling Jamaican clothing at a market stall, said "it's not OK, it's wonderful" for Harry and Markle to visit.
"I like them all but Harry is my favorite," Leroy added. "Harry is colorblind and he loves mankind."
Derek Chong, a fruit and vegetable seller on Brixton's Electric Avenue — a thoroughfare immortalized in Eddy Grant's 1982 hit song — laughed when he heard that the royal couple were due to visit.
"They're coming to Brixton? What for?" he joked, though he said he was pleased that it was the "more in touch with the ordinary people" Prince Harry who was visiting.
But the royal visit highlighted an underlying frustration in a neighborhood divided between those who have benefited from gentrification and those who feel it has left them behind.
Many residents said one positive development in recent years was the decline in the crime rate, with many saying they felt safer — though according to London's Metropolitan Police the area still has high levels of theft and related crimes.
Locals said they were pleased the neighborhood no longer had a reputation for being dangerous, as it once did.
Despite the many positive developments in the area, many residents said they felt integration is still lacking.
Rose Clark, who was browsing in a religious bookshop and has lived in the area for three decades, said she hoped the royals would venture out from Pop Brixton to walk around.
Betty Mehari, 46, who also works at Diverse, agreed.
"Pop Brixton is the face of gentrification," she said, adding that she hoped they would visit the local market outside of the community project's gates.
Kwushue, of Reprezent, said she didn't see why that wouldn't happen.
"They might just go and get a jerk chicken afterwards down the road," she quipped.