Judge orders U.S. to revive part of DACA immigration program
Comments
By Alex Johnson with NBC News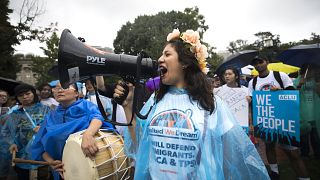 -
Copyright

Jim Lo Scalzo EPA file
A federal judge on Tuesday night ordered the Trump administration to revive part of the program that protected children illegally brought to the United States by their parents from being deported, calling the administration's abrupt decision to end the program last year "arbitrary" and "capricious."
The ruling came just hours after a bipartisan meeting between President Donald Trump and members of Congress appeared to have moved negotiations forward, however slightly, on how to address the fate of undocumented immigrants under the DACA program.
The Department of Homeland Security, or DHS, rescinded the program, Deferred Action for Childhood Arrivals, or DACA, in September and said it would stop accepting applications from people already covered under the act to renew their two-year DACA permits. The administration said the repeal would take effect in March.
Partly granting a request from the University of California, U.S. District Judge William Alsup issued a preliminary injunction Tuesday night in San Francisco ordering DHS to resume accepting renewal applications from people who are already protected under DACA while challenges to the September order work their way through the courts. But DHS doesn't have to accept new applications, he ruled.
Alsup, who was nominated to the court by President Bill Clinton, scolded DHS for having presented no analysis of the impact its order would have on the almost 700,000 young people "who had come to rely on DACA to live and to work in this country."
"These individuals had submitted substantial personal identifying information to the government, paid hefty fees, and planned their lives according to the dictates of DACA," Alsup wrote. "The administrative record includes no consideration to the disruption a rescission would have on the lives of DACA recipients, let alone their families, employers and employees, schools and communities."
And he called the government's argument that DHS doesn't even have the authority to administer DACA "arbitrary, capricious and an abuse of discretion."
At the same time, he wrote, the plaintiffs "have not made a comparable showing as to individuals who have never applied for or obtained DACA" — so DHS doesn't have to process new requests for protection.
In a statement, California Attorney General Xavier Becerra called Alsup's ruling "a huge step in the right direction."
There was no immediate reaction from the White House.
Alsup issued his ruling only a few hours after a bipartisan meeting between President Donald Trump and members of Congress on DACA and border security that was made open to the press.
The White House and members of both parties said they agreed that issues to be worked out included DACA, border security, changes to family-based migration, also known as chain migration, and the visa lottery system.
No agreements were immediately reached. During the meeting, Trump reiterated that he was willing to revive DACA, at least in the short term, but only in return for funding for a wall that the president wants to build along the U.S.-Mexican border.
Surprising observers and participants in the room, Trump said he wanted "a bill of love" to address the initial issues first then endorsed moving ahead on comprehensive immigration reform once those are addressed.
"We'll do DACA," Trump said at the start of the meeting. "Then we can start comprehensive immigration reform the next afternoon."
The bipartisan meeting came at a particularly tenuous time, with Congress facing the threat of a government shutdown in just 10 days and the lack of agreement on DACA tangling up efforts to keep the government's lights on.
Late Tuesday, Trump repeated on Twitter that a wall "must be part of any DACA approval."
NBC News reported on Friday that the Department of Homeland Security has requested $18 billion in funding to complete the wall, a key campaign promise of Trump's.
Related: Trump and his border wall remain biggest wild cards in immigration fight
Sen. Dick Durbin, D-Ill., the minority whip, called the $18 billion request "outrageous."
The plan would include 316 miles of new fencing and 407 miles of reinforcing existing fence over the next decade.
Republican senators who have been talking to the White House have been softly redefining the definition of a border wall for the past week, saying Trump wasn't literal when he promised a physical structure spanning the entire length of the southern border.
At the meeting Tuesday, Trump appeared to be talking in similar terms, and he didn't mention that Mexico would pay for it.
"We are doing a study of that right now, but there are large areas where you do not need a wall because you have a mountain, and you have a river, you have a violent river. You don't need it," he said.