#Time's Up for the Golden Globes
Comments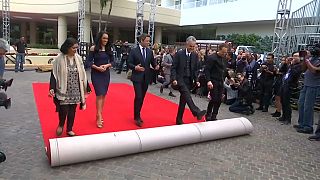 The Golden Globes are a highlight of the film industry calendar, but this year there is a feeling other than excitement building in the run-up to the event. Following the recent revelations, many actors and actress are joining forces to highlight the #Time's Up campaign which aims to expose sexual abuse in the cinema industry.
Actress, Laurie Metcalf spoke at the build-up event,
"It's just I think it's the right time, the right place. The momentum is building. It will just be a day of complete solidarity for anyone -- men and women in our industry and across the country."
Recording Artist and Actress, Mary J. Blige is supportive of her colleagues,
"I'm actually happy and proud of these women. I mean, it is their time. It is their time. They've been hanging onto these things forever, for God knows how long. And now they're speaking up and it being set free."
Actor, Peter Fonda attended the build-up event with his wife Parky Fonda,
"Well, I think they should make a point. I mean, I was blown away when I read The New York Times report that (actress-producer) Salma Hayek had (been talking about sexual harassment by her "Frida" producer Harvey Weinstein, which he has denied.)
"I know Salma very well. I adore her. Had I known that about Harvey Weinstein, instead of just hitting him, I would have had him killed."
While some attendees are expected to reflect the campaign in their outfits, special pins have been made for others to wear to show their support. Award winners are also expected to focus on the issue in their speeches.