Israel takes step to make death sentences easier
Comments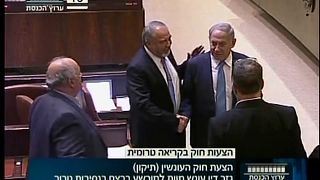 The Israeli parliament has taken a first step towards amending the criminal code and making the death sentence more possible for certain offences.
Israeli military courts - which handle cases involving Palestinians in the occupied West Bank - already have the power to issue the death sentence, although this has never been implemented.
"I think that in extreme situations there is also a simple logic, and the simple logic is if someone slaughters and laughs, he will not spend the rest of his life in jail, but will be executed so this, in my view, requires this result," said Prime Minister Benjamin Netanyahu.
Asked by an Israeli Arab lawmaker whether he would also apply this reasoning to Jewish militants convicted of killing Palestinians, Netanyahu said: "In principle, yes."
Israel has only ever executed one person in the nation's history, ex-Nazi Adolf Eichmann in 1962.
Currently all three judges on a mlitary tribunal have to agree on any death sentence. The new law, which requires three more readings, will only require a majority to pass sentence.