Iran plays down violent protests despite mounting death toll
Comments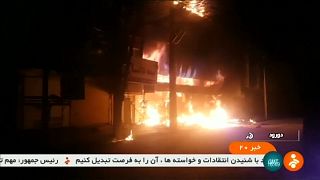 As many as 21 people have been officially reported killed including one policeman as demonstrations in Iran continued throughout Sunday.
On Tuesday morning, nine more fatalities were reported overnight in the Isfahan region.
The death of the officer is the first fatality among security forces struggling to contain five days of unrest which is challenging the county's clerical leadership.
Two other people died when protesters are said to have seized a fire engine and ran into a car.
President Hassan Rouhani has played down the protests which began last Thursday, initially against price rises and corruption but which have taken on a wider anti-government sentiment.
He said Iranians had the right to criticise but not to cause unrest and vowed to crackdown on lawbreakers.
While anti-government protests have broken out across the country, there have also been demonstrations of support for the government.
The authorities are said to have restricted access to social media however videos posted online have shown crowds of people calling for the religious establishment to step down.