Chrissy Teigen's flight was turned back. It's not uncommon.
Comments
By Kalhan Rosenblatt with NBC News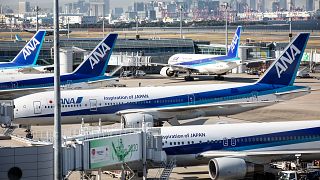 Copyright

Christopher Jue Getty Images file

-
Supermodel Chrissy Teigen captivated her Twitter followers when she live-tweeted about her "flight to nowhere" — caused when a rogue passenger was discovered on board her Tokyo-bound airplane Tuesday morning. The incident led the All Nippon Airways crew to turn the jetliner back to Los Angeles four hours into the flight.
While airline officials apologized for the turnaround and said it was investigating how the "unauthorized" passenger was even permitted aboard, aviation experts say it's actually not uncommon for an aircraft to turn around mid-flight.
In fact, it happens everyday, multiple times a day, said Ian Petchenik, a spokesman for Flightradar24, a real-time flight-tracking service.
"This time of year we track about 150,000 flights a day. In any 24-hour period, about two dozen will not arrive for a number a reasons," Petchenik said.
The most common reason for a diverted or returned flight, Petchenik said, is weather — especially in winter. But other reasons can range from medical to mechanical, and yes, even a stray passenger.
Petchenik said in the hours after All Nippon Airways Flight NH175 went viral on social media, he was repeatedly asked why the plane didn't just land at a closer airport, such as in Anchorage, Alaska, instead of returning to Los Angeles.
Related: Tokyo-bound flight with Chrissy Teigen forced to return to Los Angeles
"If it's practical, airlines prefer to land where they have ground staff and can accommodate the passenger," he said, adding that other airports "might not have proper staff to receive the plane, to refuel the plane, things like that."
He said an airline would rather know the airport can "re-accommodate the passenger and the aircraft" before making the unscheduled landing.
After returning to LAX, All Nippon Airways apologized to its customers for the inconvenience, saying that they welcomed ongoing feedback.
"We apologize to all of our passengers on Flight 175; we failed to deliver the customer service we strive for," the airline tweeted.
Although it is still not known how the stray passenger ended up on the flight, Henry Willis, a senior policy researcher at RAND Corporation with a knowledge of aviation security, said keeping airports secure is a team effort.
"Security isn't just the TSA. It's all parties," Willis said, adding that everyone from airlines to passengers play a role in keeping airports safe.
He said it is likely a review will be done so the airline can assess how it can prevent future mix-ups. As to what led to this one, Willis said it's hard to tell.
"It's hard to speculate what could have happened. It could have been technical failure, but it could have been a person overriding the system," Willis said of the ticket reader. "To get aviation security right involves everyone playing their role — not just TSA. There are people involved every step of the way and that creates opportunities for mistakes to happen."
Willis said stray passengers isn't a frequent occurrence, but it does happen. He cited a 2016 case when a mother claimed JetBlue put her 5-year-old boyon the wrong flight.
"It's not frequent, but there's a number of cases that have been reported over the years," Willis said.