Royal Navy's pride & joy springs leak on sea trials
Comments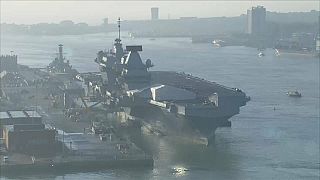 The Royal Navy's new flagship, the Queen Elizabeth aircraft carrier, has sprung a leak and will need repairs in Portsmouth. 
The leak is some 200 litres per day, a mere spoonful of water for the largest-ever warship built in Britain, but is the result of a faulty seal on a propellor driveshaft, allowing highly corrosive seawater into one of the more sensitve parts of the propulsion system.
The ship was only recently commissioned by Her Majesty The Queen, and was undergoing sea trials when the fault was detected.
The Queen Elizabeth took eight years to make and cost nearly 3.4 billion euros, but taxpayers will not foot the repair bill, as the leak is the responsibility of the ship's contractors.