Clashes erupt outside Albanian parliament
Comments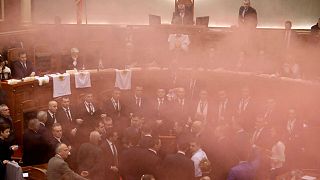 -
Copyright

France Picture Service
Opposition supporters clashed with Albanian police outside the parliament in Tirana on Monday (December 18).
Demonstrators were trying to disrupt a vote on the appointment of an interim prosecutor general. which they believe is "unconstitutional".
Protesters threw smoke bombs at police who had to push people back after they broke a first security cordon. Local media reported that several people were injured.
From inside, opposition lawmakers also threw smoke bombs inside parliament to divert the vote but governing legislators were still able to hold the vote and elect Arta Marku as acting chief prosecutor.
The opposition still boycotted the vote.
Opposition lawmakers claim that parliament is not entitled to elect an interim prosecutor general and should wait for the creation of the commission to do that.
The governing socialist parliamentary group head Taulant Balla said that the commission will be created in a few weeks but that "such an important institution as the prosecutor general's office cannot remain vacant even for a day".
Albania, a NATO member since 2009, was granted EU candidate status in 2014 and hopes to launch negotiations next year.