Nazanin could be home by Christmas - Richard Ratcliffe
Comments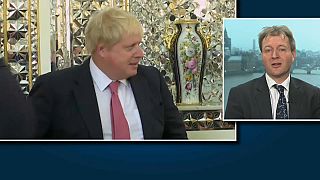 Nazanin Zaghari-Ratcliffe - the Euronews speed read
Sunday's court postponement is a positive development - husband
38-year-old might by home for Christmas, he says
"Mentally fragile" mother-of-one has had anti-depressant medication doubled
Meetings due with UK Foreign Office officials to get clarification on weekend visit
Officials describe visit as "worthwhile"
Husband will keep campaigning until Mrs Zaghari-Ratcliffe is home
**Nazanin Zaghari-Ratcliffe - Euronews speaks to husband, Richard **
**Catherine Hardy: **If you have watched the news recently you will surely recognise the face and name of Nazanin Zaghari Ratcliffe. She is the 38-year-old woman from North London who is serving a five-year sentence in Iran for allegedly trying to topple the government. What is new about this case - yesterday (Sunday) a further court case for allegedly trying to spread propaganda was postponed. This is at the same time that Foreign Secretary Boris Johnson and foreign officials were in Tehran. Is this a coincidence or is it a positive development? That is the question on everyone's lips. Joining me now is Nazanin's husband Richard from London. What is your take on this? Is it a positive development?
Richard Ratcliffe: I think it is absolutely a positive development, we were obviously living with trepidation in the last few days worrying about this court case and worrying that she was going to get an extra sentence and what that could mean. And then this weekend it did not happen. Because it did not happen, her first sentence, as you said she was sentenced to five years, she has actually already been in prison for twenty months which means she is eligible for early release under Iranian law so it meant that it is possible she could be released on early grounds, we have got an application in and, hope beyond hope, she might just be able to come home for Christmas.
Catherine Hardy: And how is she, in herself?
Richard Ratcliffe: She has been very fragile recently. I get a phone call at least once a week, sometimes twice. I last spoke to her on Sunday after the planned court case had not happened and it was like a weight had been lifted off her shoulders, she was much happier, she talked about being able to see the light at the end of the tunnel, even talked about other prisoners asking her what she would do with her stuff if she might be released, if they could have her clothes and so on. So, being able to entertain those kinds of thoughts and that positivity, that is the first time she has been like that for a long time, so it was a good converstation yesterday.
Catherine Hardy: I think she has been quite down at times, understandably so.
Richard Ratcliffe: She has been very fragile, mentally. She went to see a psychiatrist again on Saturday, she has had her dosage for anti/depressants doubled, she has been very fragile for a long time and had a number of panic attacks and all sorts of things and that is the legacy of partly the stress of what she is going through at the moment, being on Iranian TV being accused of being a spy every other day but also the legacy of all that time in solitary confinement and being away from your family for so long. It has been a long, hard process so I sit here hopeful that we are near the end of that tunnel. But it has been a long, long tunnel we have been through.
Catherine Hardy: What do you think the next development in the case will be?
Richard Ratcliffe: Partly to find out what has happened, to meet with the Foreign Office and ask them a bit more about all these meetings the Foreign Secretary had and their sense of where things are. For me, with campaigning, I have always said I will keep campaigning until she is home, part of that is working out what is sensible to keep campaigning and at the moment its fingers crossed for Christmas and waiting by the phone and hoping but also her lawyer will be pushing for the application for early release on medical grounds we will be pushing for that and we will wait to see.
Catherine Hardy: If you had Boris Johnson and his Iranian counterpart in the room in front of you now, what would you say to them?
Richard Ratcliffe: Pressing the point that I have been pressing for a long time, that this is a mum with a young child, separated from her family for a long time, it would just be great for them to be reunited for Christmas. Everyone knows that Christmas is a family time and if that could be acheived and if, you know, the wider relationship between the UK and Iran could be improved, that this could be done as some sort of symbolic gesture that could only be a good thing.