Twitterstorm as Trump hits back at May
Comments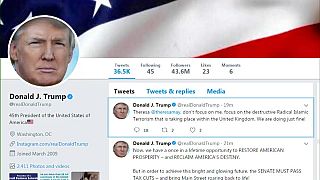 The British prime minister's temerity in saying the US president was "wrong" has triggered another tweet from Donald Trump.
I hope our Government will condemn far-right retweets by Donald Trump. They are abhorrent, dangerous and a threat to our society.

Leader, Labour Party
"Don't focus on me" he says, telling May to concentrate on the UK's radical Islamic threat.
Theresa May criticised Trump for retweeting material, some of it previously identified as "fake news", from the far-right British organisation Britain First. One clip in particular lost all credibility when Dutch authorities identified an alleged "migrant" pushing a boy on crutches as born in the Netherlands.
It formed part of an intense day's tweeting and opining about favourite Trump themes, including attacks on North Korea, and the duplicitous American mainstream media. Shortly after posting the discredited Britain First material, Trump waded into the "fake news" he claimed was peddled by his detractors.
Trump was retweeting material originally published by Jayda Fransen, Deputy Leader of Britain First, now facing criminal charges for alleged hate speech in Belfast this summer after previously being convicted of religiously aggravated harassment, when she screamed abuse at a woman on public transport.