Pope Francis fails to mention Rohingya Muslims in Myanmar speech
Comments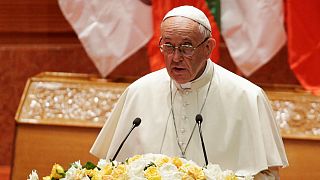 Pope Francis has given a speech in Myanmar without specifically mentioning its Muslim Rohingya community.
The south-east Asian country has been accused of ethnic cleansing with 620,000 Rohingya fleeing to neighbouring Bangladesh since August.
Escapees told Save The Children there had been widespread rape, children burnt alive and dams being filled with bodies.
The pope said in his address on Tuesday (November 28): "The arduous process of peacebuilding and national reconciliation can only advance through a commitment to justice and respect for human rights.
"In the great work of national reconciliation and integration, Myanmar's religious communities have a privileged role to play.
"Religious differences need not be a source of division and distrust, but rather a force for unity, forgiveness, tolerance and wise nation-building.
"The religions can play a significant role in repairing the emotional, spiritual and psychological wounds of those who have suffered in the years of conflict."
His trip is so delicate that some papal advisors warned him against even saying the word "Rohingya", lest he set off a diplomatic incident that could turn the country's military and government against minority Christians.
Myanmar does not recognise the Rohingya as citizens nor as members of a distinct ethnic group with their own identity, and it rejects the term "Rohingya" and its use.
Its army released a report earlier this month denying all allegations of rape and killings of Rohingya Muslims by its security forces, days after replacing the general in charge of the operation.
Before his speech Pope Francis spoke with Myanmar's de facto leader Aung San Suu Kyi, who has been criticised for her perceived lack of action on the issue.