US nuclear commander says he would resist 'illegal' order from Trump
Comments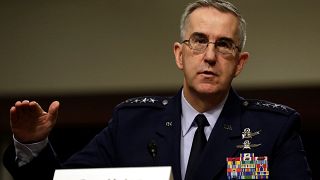 The top US nuclear commander said he would resist any "illegal" order to launch nuclear weapons coming from President Donald Trump.
Air Force General John Hyten, commander of the US Strategic Command (STRATCOM), said he has already considered how to respond if the president asked him to execute an unlawful order.
"I think some people think we're stupid," Hyten said at the Halifax International Security Forum in Canada.
"We're not stupid people. We think about these things a lot. When you have this responsibility, how do you not think about it?"
Being the person in charge of overseeing the US nuclear arsenal, the general explained that he gives advice to the US president who, in turn, would tell him what to do.
"And if it's illegal, guess what's going to happen? I'm going to say, 'Mr. President, that's illegal.' And guess what he's going to do? He's going to say, 'What would be legal?' And we'll come up with options, of a mix of capabilities to respond to whatever the situation is, and that's the way it works. It's not that complicated."
"If you execute an unlawful order, you will go to jail. You could go to jail for the rest of your life," he added.
The Pentagon did not immediately respond to a request for comment on Hyten's remarks, Reuters reports.
This statement comes days after a US Senate committee held the first congressional hearing in over 40 years to discuss the US president's authority over nuclear strikes.
In September, Trump threatened to "totally destroy" North Korea in an address at the United Nations but recently changed his tone in a visit to South Korea, urging Pyongyang to "come to the table and make a deal" to end the nuclear standoff.
with Reuters