Pinera on course in Chilean presidentials
Comments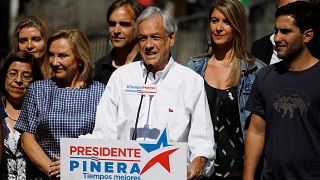 Chileans are voting for a new president and members of the upper and lower houses of parliament, in an election where polls say former president and billionaire Sebastian Piñera will win the first round, but have to face a run-off.
Outgoing centre-left President Michelle Bachelet is the least popular leader in recent times, suffering from an economic downturn and disillusion with her policies.
Piñera, in power from 2010 to 2014, left office at a similarly low ebb, but the opposition is fragmented and voters like his promises to spend on infrastructure and get the economy back on track.
Senator Alejandro Guillier hopes to take over from Bachelet, but if he makes the run-off he will be hoping for a big turnout, which normally favours the centre-left.
Bachelet did not follow through on some promised reforms, but she also fell foul of low demand for Chile's main export, copper. The world's number one producer had to slash prices, and revenues fell.